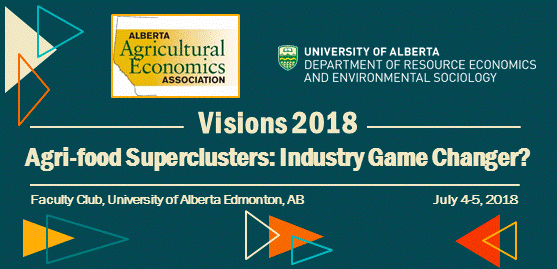 About this Event
The Alberta Agricultural Economics Association (AAEA) and the Department of Resource Economics and Environmental Sociology (REES) are glad to co-host Visions 2018 – Agri-food Superclusters: Industry Game Changer? This year, we have the pleasure of hosting a delegation of eighteen Ukrainian Agri-Food business managers and executives, that will be doing a tour in Western Canada to learn from our local industry. This delegation will be attending the conference and joining some of the sessions as speakers and panel experts.
Date: July 4th-5th, 2018.
Venue: Faculty Club, Harriet Winspear Dinning Room, University of Alberta. 11435 Saskatchewan Dr NW, Edmonton, AB T6G 2G9.
On the evening of July 4th, we will have a wine and cheese reception, a research poster competition and our Keynote Speaker. Jean-Philippe Gervais will be sharing his thoughts of the Canadian financial markets and how these affect the Agri-food sector.
On July 5th we will have a full-day conference. See below the topics to be addressed in the sessions during the full-day conference.
See Conference Poster  here. Please feel free to share the conference poster with your colleagues! The poster size is 11 x 18 inches.
See Conference Program  here.
Topics
Some of the topics that will be addressed in this year's conference include:
History of Agri-food Chains in Canada
Agri-food Industries Superclusters in Canada, Ukraine and the Netheralands
Trade agreements with the EU and Ukraine
Diversifying Agri-food Exports
Marketing and Transportation issues in Western Canada
Speakers
Some of the speakers joining us for Visions 2018 are:
Jean-Philippe Gervais – Farm Credit Canada
Jerry Bouma – Toma & Buma Management Consultants
Sandra Marocco - Plant Protein Alliance of Alberta
Natalia Gordiichuk - Ukrainian Food Valley
Nata Maevska – Horseradish Cluster
Kate Zverieva – FAO
Derek Brewin – University of Manitoba
Conference Fees and Registration
Early full registration: $150 (by June 26th, 2018)
Full registration: $180 (after June 26th, 2018)
Student Registration: $100
Registration for Reception (July 4th): $60
Registration for Conference Sessions (July 5th): $120
Complete your online registration at following the link: www.picatic.com/AgVisions2018.
Faculty Club Parking
Parking is available in the V-lot and the Windsor Car Park enter off of 116 Street. Parking can be paid in the lot or at the parking kiosk outside the front door of the Faculty Club.
Accommodations 
The University of Alberta campus has a convenient number of options for accommodations on and off-campus. These are some of our suggestions:
On-campus:
Schaffer Residence  -  single room with washroom  - $72/night + tax
Lister Hall Dorm Room – single ($52) or twin rooms ($62) - shared washrooms
For more information on these accommodation options visit: www.conference.ualberta.ca, or request more information by email at guestservices@ualberta.ca, or by phone at: 780-492-6056.
Off-campus:
Sponsorship
We are pleased to invite Companies and Organizationsto become a sponsoring partner with the AAEA and REES and supporter of this dynamic conference that will appeal to all aspects of the Agri-food industry, and its sustainable future.  Your support of this conference will convey a strong message about your involvement and commitment to agriculture, agri-food processing, the related support industries, and consumers.   Contact either: Reg Norby, Visions 2018 Sponsorship Chair (norby@shaw.ca); or, Mike Vorona, Visions 2018 Program Chair (mvorona@serecon.ca).
Graduate Student Poster Presentation and Competition
To participate in the poster competition, students need to email the title of their posters to Dr. Mohammad Torshizi (torshizi@ualberta.ca) by June 30, 2018. Recommended poster size is 36x48 (Standard). Best posters will be voted by conference participants. There will cash prices awarded to authors of the posters that win first ($300),  second ($200) and third ($100) place in the competition.
Questions regarding the poster competition can be directed to Dr. Mohammad Torshizi.
For more Information
For more information contact us at aaea@ualberta.ca. Or contact Catalina Solano at (780)427-8820.
Scholarships for UofA Students
Profits from this event will go in support of the AAEA Scholarship for graduate and undergraduate students.