Agriculture: Increasing Diversity of Purpose and Function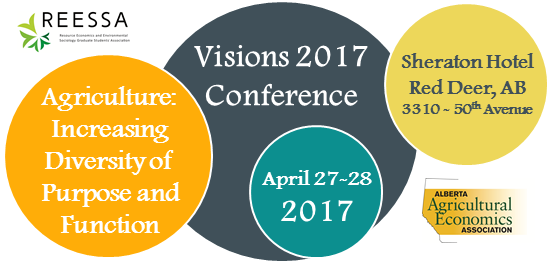 About this Event
The Alberta Agricultural Economics Association (AAEA) and the Resource Economics and Environmental Sociology Graduate Students Association (REESSA) are co-hosting Visions 2017 – Agriculture: Increasing Diversity of Purpose and Function. This year's conference will address current issues affecting Alberta's and Canada's Agricultural sector.
Date: April 27-28, 2017
Venue: Sheraton Hotel, 3310 50th Avenue, Red Deer, AB.
See Conference Poster here. Please feel free to share the conference poster with your colleagues!
See Conference Program here.
Topics
Visions 2017 will have two concurrent sessions. The topics for each session are as follows:
AAEA Sessions
– Climate, carbon and agriculture
– Disruption from new technologies
– Marketing GMO products
– Market investment and consumer intentions
– Preparing for the effect of natural disasters
– Changes in trade environment
REESSA Sessions
– Agricultural Supply Chains
– Preference and the Potential for Change
– Connecting Production and Natural Environments
– Changing Perceptions
– The Effect of External Agents on Rural Communities
Speakers
Visions 2017 will have a wide range of expert speakers from government, industry and academia. See our speakers' bios here.
Registration and Conference fees
Please register by clicking on the following link: https://www.picatic.com/agVisions17#/
Payments can be made online by credit card using the link above, or by cash or cheque at the venue. Please write cheque to "Alberta Agricultural Economics Association". Keep in mind that registrations with payments being made at the door by cash or cheque are not eligible for the early-bird registration fee.
An official receipt for registration fee payment will be made available for all conference attendees in their conference package.
For students only: Please contact Todd Godfrey to register under the student category at tgodfrey@ualberta.ca.
Conference Fees
– Early full registration: $250 (by April 19, 2017)
– Full registration: $280 (after April 19, 2017)
– Student Registration: $100
– Registration for Day 1: $180
– Registration for Day 2: $120
Accommodations
We have negotiated special room rates for our conference attendees and sponsors with the Sheraton Hotel, Red Deer. Room rates start at $134/night plus taxes. Space is limited so book early. Must book by April 14, 2017 to receive the special conference rate (while space is available).
Book your room online by following link: https://www.starwoodmeeting.com/events/start.action?id=1702079361&key=1FE92B76
Or by phone, by calling (403)346-2091. Make sure to mention you are part of the AAEA/REESA Visions 2017 Conference group to get the conference fee.
Post-Conference Farm and Agri-Food Tours
For the first time, Visions 2017 will offer post-conference Farm and Agri-foods tours. The tours will take place after the end of the second day's program. These will be self-driving tours and will be offered at no cost.
Please RSVP to the tour you are interested in to assist our hosts in accommodating our visit. You can attend one or both stops on each tour – It's your choice! Details and directions for the tours will be provided in your Visions 2017 registration kits.
Please keep in mind that tours will only be offered based on interest. A minimum number of participants is required. So please specify in your registration form what tour/s you are interested in attending.
The proposed tours are as follows:
Farm and Agri-Food Tour – North
Stop #1: 1:30 – 2:30 pm
Canadian Rangeland Bison & Elk Inc.
#103, 3402 Hwy 12, Lacombe, AB
Stop #2: 3:00 – 4:00 pm
Rock Ridge Dairy Farm
Ponoka, AB
Farm and Agri-Food Tour – South
Stop #1: 1:30 – 2:30 pm
TBD
…
Stop #2: 3:00 – 4:00 pm
Beck Farms / Innisfail Growers
…
Sponsorship
Visions 2017 has a four level of sponsorship:
– Gold – $1,000 – $2,000
– Silver – $500 – $1,000
– Bronze – $500 or less
– Primary Sponsorship – This opportunity is for the sponsor contributing the greatest sponsorship amount, over $2,000. Along with sponsor recognition, the primary sponsor will be provided with the option to work directly with the Program Chair to create a presentation at the annual Visions conference that educates the conference attendees about their industry or a topic of their choice.
Why sponsor?
– Be recognized as a supporter of agricultural and rural social sciences.
– Contribute to the discussion of issues affecting Alberta's rural economy.
– Encourage research and dissemination of research results related to Alberta's agriculture and agri-food industry.
– Contribute to the advancement of policy discussions in the Alberta agri-food industry as they relate to competitiveness of the industry.
– Support and meet with emerging leaders, including breakout sessions with UofA's Resource Economics and Environmental Sociology Students Association.
– Connect with a community of people excited about key economic and policy issues.
– Network and share insights with diverse stakeholders, including industry, government, and academia.
– Discover emerging policies, regulations, and economic drivers impacting the agriculture and agri-food industries.
Sponsorship Package
If you are interested in being a sponsor for Visions 2017, see our Sponsorship Package here.
For sponsorship opportunities, please contact: Dawn Trautman by email: det@ualberta.ca, or by phone: (780) 914-1817.
More information
For more information, contact us by email at aaea@ualberta.ca or by phone at (780) 427-8820.
Thank you to our sponsors!