Visions 2016 – "Growing Agriculture in Changing Climates: Economic, Environmental, and Social"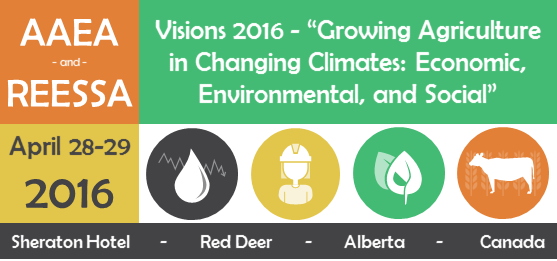 AAEA and REESSA co-hosted again in 2016
The Alberta Agricultural Economics Association (AAEA) and the Resource Economics and Environmental Sociology Graduate Students Association (REESSA) are joined forces again to host Visions 2016. Attendants had the opportunity to participate in sessions with speakers from Industry, Government and Academia (see bios for all speakers in AAEA sessions here). Graduate students will also had the opportunity to present their research results in order to give an update of the state of the art in environmental and agricultural research done by Alberta economists and sociologists.
See the conference poster here.
Conference Program
See the full conference program here.
Presentations
Bev Yee – Deputy Minister, Alberta Agriculture and Forestry
Agriculture Industry in Alberta [ PDF ]
Constance Smith – Chair, Department of Economics, UofA
Some Reasons for Optimism about the State of the Alberta Economy [ PDF ]
Brenda Schoepp – Inspirational Speaker and Farmer
Milk, Meat and Manure: The Evolution of Farm Animal and Our Future
Noreen Willows – Associate Professor, Department of Agricultural, Food and Nutritional Sciences, UofA
Looking at the Food Environment in Alberta Using a Food Security Lens
Herbert Emery – Professor, Program Director for Health Policy in the School of Public Policy, UofC
How a Guaranteed Annual Income can Dramatically Reduce the Need for Food Banks [ PDF ]
Bruno Wichmann – Assistant Professor, Department of Resource Economics and Environmental Sociology, UofA
The Effects of Agricultural Adaptation on Food Security [ PDF ]
Meghan Dear – CEO of Localize
Making Local Big Again in Grocery
Marjorie Bencz – Executive Director, Edmonton Food Bank
Understanding the Work and Potential of Food Banks [ PDF ]
Kathryn Lennon – Principal Planner, City of Edmonton
Local Government and Local Food [ PDF ]
William A. Kerr – Distinguished Professor, UofS
Canada's Evolving Trade Landscape – What Will It Mean for the Agri-food Sector in Alberta?
Peter Kuperis – Director, Domestic and International Trade Policy Branch, Alberta Agriculture and Forestry
Evolution of Trade Policy post WTO [ PDF ]
Olu Oyewumi – Economic Modeller, Alberta Agriculture and Forestry
Potential Impact of the Trans-Pacific Partnership Agreement on Alberta/Canadian Agriculture
Leigh Anderson – Senior Agricultural Economist, Farm Credit Canada
Outlook for Farmland Values [ PDF ]
Neil Blue – Provincial Crop Market Analyst, Alberta Agriculture and Forestry
Crop & Livestock Markets – What's Happening?
Mike Vorona and Jim Robinson – Serecon
The Family Farm as an Intergenerational Asset [part 1] and  The Family Farm as an Intergenerational Asset [part 2]
Humphrey Banak – Alberta Federation of Agriculture, Grain Farm Operator
Farm Management in the 21st Century – Beyond Production Practices
Brenna Grant – Canfax
Insights from Canadian Roundtable for Sustainable Beef
Nevin Rosaasen – Alberta Pulse Growers
Alberta Sustainability Initiatives in Cropping Sector