"Economic Impacts: Perspectives on Trends in Agriculture, the Environment and Society"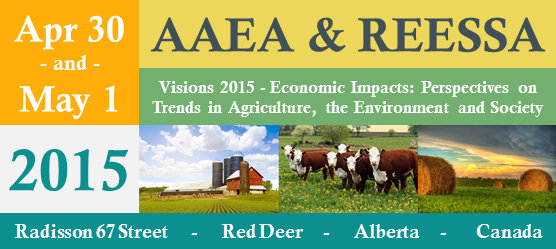 See Visions 2015 conference poster here.
About this Conference
The 2015 AAEA Visions Conference "Economic Impacts: Perspectives on Trends in Agriculture, the Environment and Society" was a joint event with the Resource Economics and Environmental Sociology Student Association (REESSA).
The conference took place on April 30th and May 1st at the Radisson 67 Street (previously known as iHotel 67 Street) in Red Deer, Alberta.
Program
The conference addressed current topics, and presentations were delivered by a variety of respected speakers from academia, government, and industry.
To see the program click here.
Presentations
Todd Hirsch, ATB
Alberta Economy 2015: Who Should Worry… and Who Shouldn't?
David Weber, Serecon
Alberta Farmland – Bubble or Bargain? [ PDF]
Sean Royer, ARD
Achieving Social License in Agriculture [ PDF ]
Dr. Jill Hobbs, U of S
Private Standards for Food Safety and Quality: Is the Glass Half Full or Half Empty? [ PDF ]
Darcy Fitzgerald, Alberta Pork
Alberta Pork and Social License [ PDF ]
Gordon Cove, ALMA
Advancing the Livestock and Meat Industry in Alberta [ PDF ]
Brian Beres, AAFC
Navigating the Intersection of Agronomic Research and Economic Implications [ PDF ]
Dr. Nick Savidov, ARD
New Developments in Sustainable Agriculture: Aquaponic and Beyond [ PDF ]
Dr. Oparinde Adewale, HarvestPlus
Agriculture and Health Nexus with Biofortification Lens [ PDF ]
Dawn Trautman, Gentec
The Application of Genomics: Emerging Challenges and Opportunities in Livestock Production
Banquet Speaker: Dr. Thomas Johnson, University of Missouri
Measuring Economic Impacts in Agriculture, the Environment, and Society [ PDF ]
Andrew Arnold, SureHarvest US
Agrifood Sustainability Programs: Where are We and Where are We Heading? [ PDF ]
Dr. Lauchlan Fraser, Thompson River University
Sustainable Ranching in BC: Meeting the Climate Change Challenge [ PDF ]
Erin Gowriluk, Alberta Wheat Commission
Alberta Wheat Commission and Sustainability Initiatives [ PDF ]
Bruce McFadden, Quorum Corporation
Monitoring Western Canada's Grain Handling and Transportation System
Dr. Richard Gray, U of S
The Future Governance of Crop Research in Western Canada [ PDF ]
AAEA Team
Thank you to the AAEA team for working so hard to ensure Visions 2015 was a success!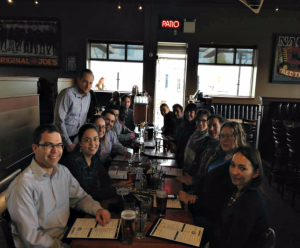 More Information
For more information please contact:
Catalina Solano at solanori@ualberta.ca or Lukas Matejovsky at lukas.matejovsky@gov.ab.ca.